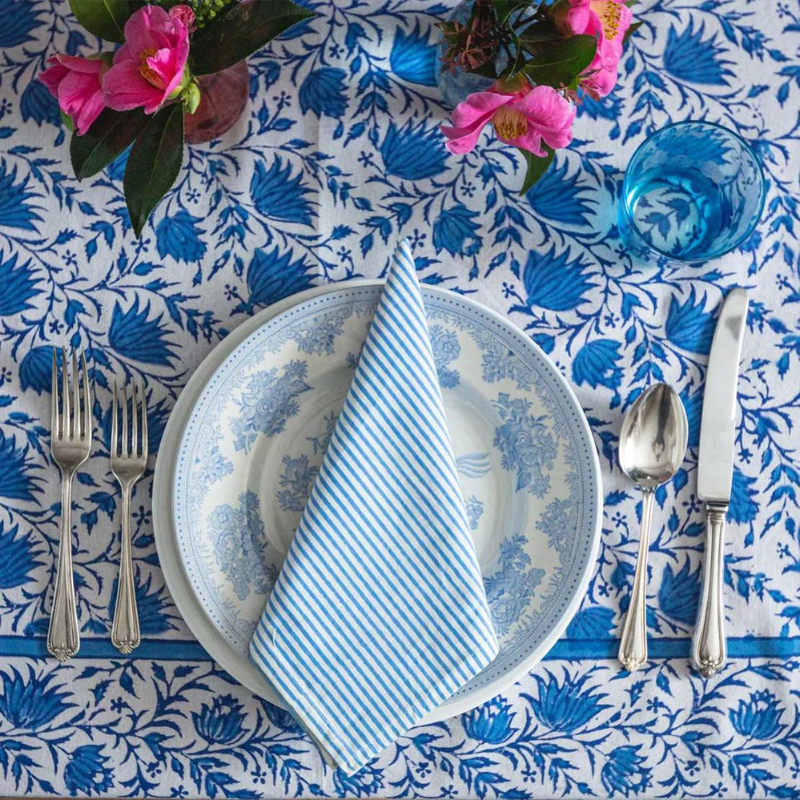 The Fine Art of Tablescaping
So, what exactly is 'tablescaping' and why is it so much more than simply setting the table? These days, for many, preparing the table is ranked as important as the food that goes on it. Guests will be greeted by a spectacle of colour, pattern, texture and joyfulness!
Tablescaping: the theme
First up, is the theme. Are you going English country or Moroccan souk? Deciding the vibe will influence the entire project and quite possibly your menu too.
Choosing a tablecloth
Next is the tablecloth. Let dull tables be a thing of the past and instead choose a vibrant, patterned design.  It is wise to opt of a two or even a three-tone cloth as it allows for more variety with the accessories. This is almost the most important item as everything else will be dictated by the colour scheme chosen. Indian block printed tablecloths are huge right now and instantly add drama. Stripes are always striking but let's not forget a simple, plain cloth in a stunning hue for those seeking a more elegant look.
Table setting etiquette
Traditional table-setting etiquette still applies; cutlery is set in order of use, working outside-in. Wine and water glasses should be placed together above the knives whilst napkins can be either to the left or in the centre of the place setting.
Tablescaping: decorations
Flowers and foliage are key. These could be simple terracotta pots filled with herbs (always useful on the kitchen windowsill), planters of bulbs, little vases of delicate blooms or larger jars of mixed or single blooms. Coloured glass vases only add to the scene. Try to keep flowers seasonal by using daffodils and hyacinths in spring, roses and peonies in summer and hips and berries in the autumn. Grasses, twigs and cow parsley always work well whilst keeping costs down.
Arrange the flowers in layers, undulating along the table and ensuring that guests can still make eye contact.
Let there be light
Add a variety of candlesticks and tea lights. Glass will bounce the light and coloured candles to complement your tablecloth will always be stunning. If you are planning on placing lots of dishes of food directly onto the table, maybe keep candles and flowers tall and high to generate more space.
Finishing touches
Finish the decorations with a plethora of interesting elements to awaken interest. Whether this is edible treats, ornaments or toys, bundles of herbs or piles of fruit, the result will be a feast for the eyes. That said, do remember that your guests are there to relax and enjoy themselves so keep in mind their comfort – chatting over an enormous pink rabbit taking centre stage on the table may prove a little annoying by the end of lunch or dinner!
 Shop our home gifts 
So now you have been inspired, it's time to get tablescaping at home. Shop for table decorations, candles, tablecloths, theme ideas and more by clicking here 
.