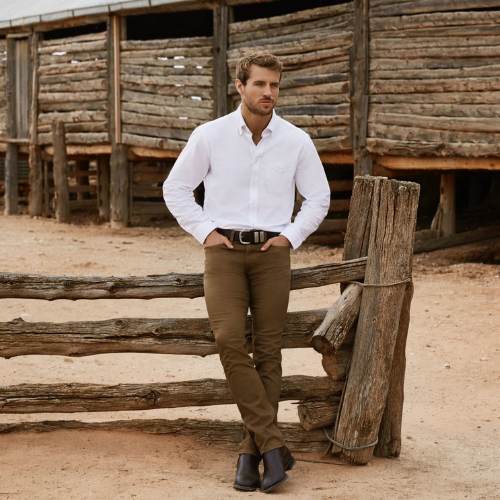 From the Australian Bush to Berkshire - why we love RM Williams.
If you're looking for clothing for your next adventure, or just want classic, durable fashion and footwear that meets the demands of your outdoor lifestyle, RM Williams could be the brand for you. 
RM Williams: Where it all began
When Australian, R.M. Williams, started his company in outback Australia way back in 1932, he couldn't have imagined that decades on he would have stores everywhere from the Big Apple to Bond Street, or that his classic designs would be worn by everyone from rock stars to royalty.
This now classic Antipodean brand began almost by accident.  It was R.M. Williams' chance meeting with a colourful character, Dollar Mick, in South Australia's Gammon Ranges, that was to mark the start of the RM Williams journey. Dollar Mick taught his young friend the secrets of bush saddlery – Williams went on to sell his first pair of handmade boots and that, as they say, is history!
Over the following decades, R.M. himself built up a team of dedicated craftsmen in a shed behind his family home, and they set about handcrafting quality boots for bushmen across Australia. After the success of selling boots, they then diversified into bush saddlery, equipment and the company's now trademark moleskins and jeans.
RM Williams: Today
RM Williams is a very special brand that continues to retain the loyalty of its original core customer base, whilst also diversifying into new markets. The real beauty of RM Williams classic boots and menswear is that they hit the sweet spot for comfort and style. People in the outback wear them for their comfort and durability, however, they are equally as popular amongst style-conscious city dwellers. Princes William and Harry are huge fans and Hugh Jackman is a company shareholder.
At Roxtons our customers appreciate the RM Williams combination of style, durability and craftsmanship.  Let's look at some of their most popular items:
Craftsman Boots
The now iconic craftsman boots are worn by gentlemen from the lanes of Berkshire to the City of London. At work or at play, they can be paired with everything from tailored chinos to the most well-loved jeans.  All RM Williams comfort and classic craftsman boots are still made by hand in their workshop in Adelaide. Crafted from one piece of premium leather or suede, these are strong and stylish, designed to be loved. Shop at Roxtons for RM Williams Craftsman boots.
Lachlan Boots
These are your hard-working boots. More suited to country living, they feature a hard-wearing thick tread rubber sole but with the same single piece leather upper. Shop now for Lachlan boots.
Ramco Moleskin Jeans
A contemporary take on the traditional slim fit moleskin, these jeans from RM Williams are cut from a robust yet tactile moleskin cotton twill and finished with antique brass rivets and logo buttons. Shop Now.
Ramco Drill Jeans
The perfect every day, hard wearing jeans that are both stylish and durable. Featuring stretch cotton twill finished with antique brass rivets and logo buttons.  These bestsellers are sure to become a wardrobe staple.  Shop now for Ramco Drill jeans.
Find your RM Williams favourites
To browse our entire range of RM Williams products, shop online today or call in to one of our stores and bring a little of the outback into your Spring wardrobe.