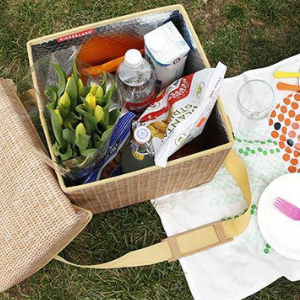 The Sun has got its hat on - time to celebrate National Picnic Week in Style
The weathermen tell us that Summer will be making a welcome return over the coming days, which makes perfect timing for National Picnic Week!
Did you know the average person in the UK picnics at least 3 times a year? That's 94 million picnics!
Of course, dining al fresco with friends and family is one of summer's greatest pleasures, but a picnic has not always been about a cold beer and a pork pie… Mrs Beeton's Book of Household Management, gave detailed instructions on how to hold a picnic insisting on 'cold roast beef, four meat pies, four roast chickens, two roast ducks, four dozen cheesecakes and one large cold plum pudding'.
To quench the picnickers' thirst, three dozen quart bottles of beer were on the menu, as well as claret, sherry and brandy!
Picnic Essentials
Though you may not have to meet the extravagant levels of Mrs B, here we recommend some products that really can elevate your next picnic experience.
If you want to turn your picnic from average to gastro then take a look at our new book 'A Perfect Day for a Picnic' packed full of ideas for romantic meals for two to preparing a feast for a crowd.
No perfect picnic is complete without the perfect picnic rug. Ours are made by from 100% merino lambswool – essential for an evening picnic when the night might turn chilly.
If you're looking for something lighter for a day at the beach then our Peshtemals are brilliant. These traditional Turkish Towels don't just look great, they're also very functional, made of the softest, most absorbent cotton – perfect for your picnic, an after-lunch snooze and for an impromptu dip!
If your picnic is off the beaten track and involves a bit of a hike, then this is an essential piece of outdoor kit. Stylish and sturdy this tripod seat comes with a leather shoulder strap making it easy to carry even on long distance adventures!
Although it's tempting to fill your cooler with pre-packaged treats from your nearest supermarket, picnics can cause a lot of unwanted plastic so get yourself some reusable picnic ware. This colourful collection is made from eco-friendly bamboo fibres!
Find out more
Wherever you're planning to picnic for whatever occasion, we've got the picnic essentials for stylish dining alfresco. To find out more please drop in to one of our stores in Alresford, Cheltenham, Haslemere, Hungerford and Stocksbridge or shop online.
Happy National Picnic Week!
21st – 30th June
#picnicweek