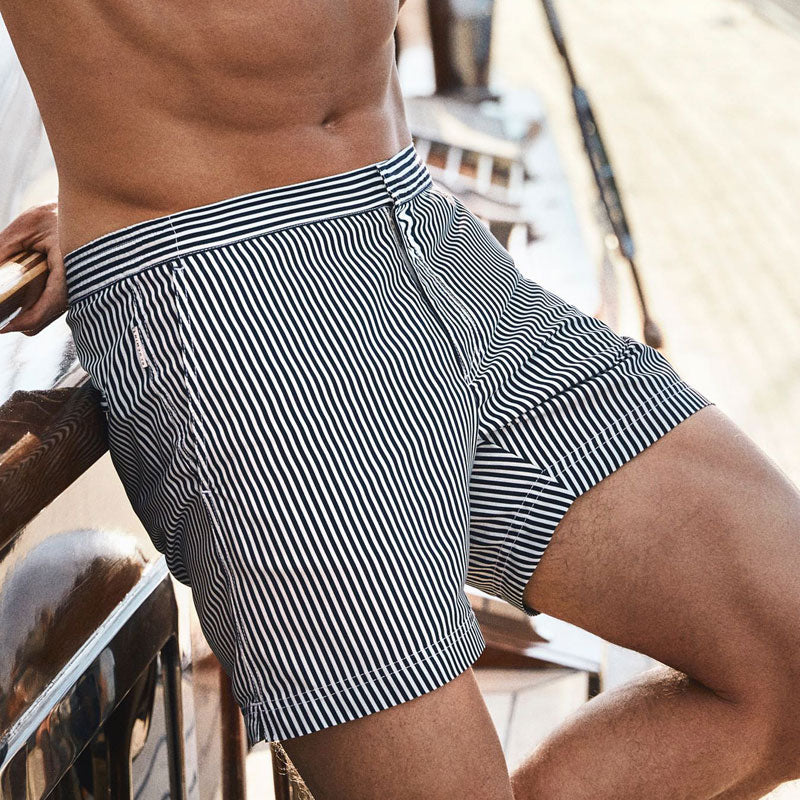 When it comes to holidays choose swimshorts guaranteed to own the pool.
Whether you're hitting the beach or taking the plunge, your swimwear needs to make the right statement this summer.
Be Bold
Swimwear used to be purely functional but now your swimmers need to take you from beach to bar so it's important they make a style statement. Our collection from Blue Mint comes in a range of fantastic prints from quirky to nature-inspired in all the colours of sun, sea and sky. If you're shorter in stature stick to smaller prints or vertical stripes. If you're taller, then the bolder the better.
Colour
Block colour can be equally as striking as pattern, especially with a tan. These from Sundek come in a range of fluorescent colours with contrast piping. They're quick drying so perfect if you like be in and out of the water!
Style
Unless you're planning on diving off the top board we suggest you stay away from trunks and stick to more surf inspired board shorts. The larger tan line is a downside, but they suit almost all body shapes and can take you from lounger to lunch with ease.
To compromise try these swim shorts from Blue Mint, just that little bit shorter and in Hamptons inspired stripes, these are perfect for those who want to show off not cover up!
Signs of Quality
It's staggering to think that swimshorts were once make of 100% wool, thankfully the invention of nylon in the 1930s changed all that. Look for quick drying fabrics such as polyester which will offer comfort and functionality. A lining is essential both for modesty and durability. Great swimshorts should also flatter not smother you. Look for quality cut and fine detailing.
Wear Mens Swimshorts With
There's no longer the need to hide behind a towel and swap swimmers for shorts before enjoying your sundowners. Swimshorts can double up as swimshorts and look great with linen shirts or polos.
When it comes to holidays, you'll spend more time in your swim shorts than anything else on your packing list so make sure you get them right this summer.