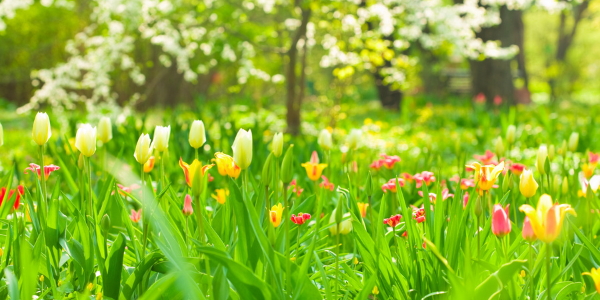 Spring newsletter
Waking up on a Spring morning to the sound of bird song is one of the most positive signs that the dreary months are past, and that spring is really here.
Crocus carpet the lawns, parks, and flowers borders whilst daffodils and tulips battle frosty ground, determined to find light. Once through, progress is so fast you can almost see them grow with a naked eye!
With spring comes colour – flowers in shades of candy pink, sherbet yellows and warm blues offset with the acid green of emerging leaves – it's a floral bonanza!
Seed planting season has just begun and this year, more than ever, so many will be comforted by the sprinkling of hundreds of tiny seeds on compost, benefit from the daily tending of the trays and feel joyful as the 'babies' emerge and grow. 
We can't wait to reap the success of our planting and fill our Klimchi jugs and vases with copious bunches of frilly cosmos and showy dahlias. These crystal glass showpieces are hand made using traditional techniques yet offer contemporary design and striking colours. Whether the jugs are filled with flowers or cordial, they are sure to make your tablescape sing.
The flower theme continues on fabrics at Roxtons. New arrivals this Spring include the Hannelene Shirt by Part Two. Delicate sprigs of flowers and foliage, in two colour ways with the tiniest hint of metallic thread, cover this beautiful blouse. Our scarves by French brand Storiatipic are a riot of Spring colours and our delicate pastel shirt by Tinta will take you from the first warmer days right through Summer. 
Garden lovers should keep an eye on Molly Mahon. The queen of block printing, never known to shy away from colour or for that matter, flowers, has just launched her new Greencombe fabric collection. Finally, did you know that a few gardens are open this month through the National Garden Scheme. If you are lucky to find one open in your local area and follow all necessary rules and regulations, it is possible to pre-book a visit. Alternatively, the NGS are offering a fascinating programme of online talks, by gardener owners and designers.