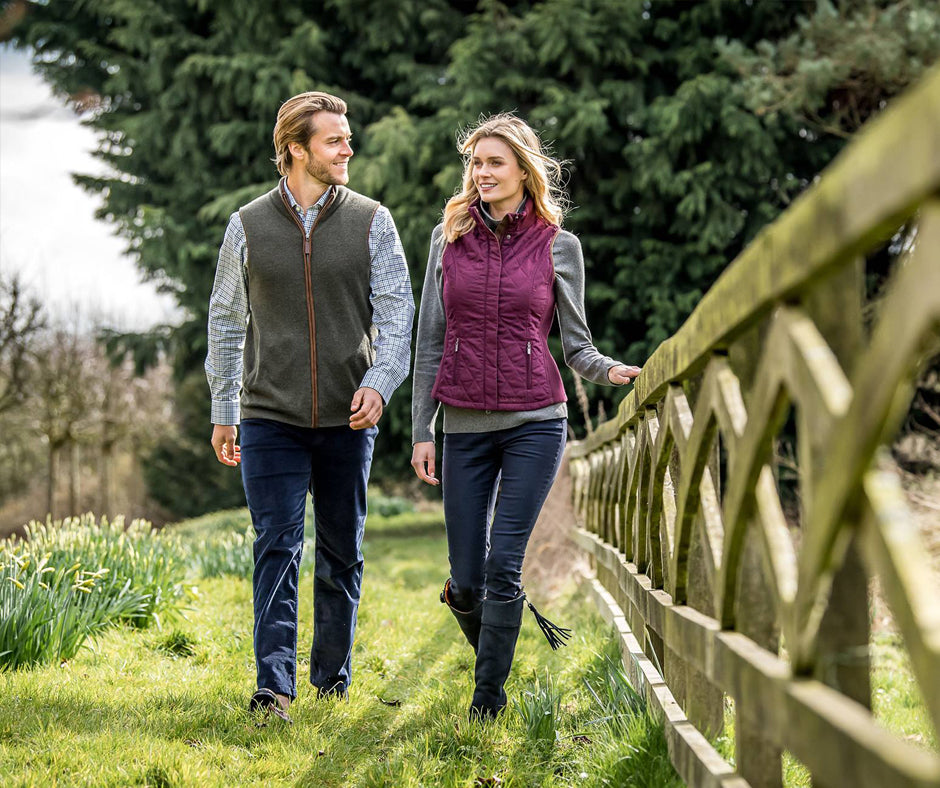 Spotlight on Schoffel – Our Favourite Products for Keeping Warm This Winter
With temperatures starting to drop, it's time to think about your winter wardrobe. For anyone who values spending time outdoors, layering up is essential. Let's talk about some of our favourite winter warming clothes from our featured brand, Schoffel.
Having been founded in Bavaria in 1804, Schoffel have spent the last two hundred plus years combining a passion for quality and outstanding styling with innovation to create amazing outdoor clothing for the country lifestyle that is lightweight and comfortable.
Here are our top picks for layering up this winter!
Gilets
A gilet is one of the most versatile pieces of outdoor clothing. It is perfect for most outdoor pursuits, including hiking, cycling, shooting, fishing and many more activities. Whilst providing plenty of extra warmth, as a gilet is sleeveless, there is no restriction in the movement of your arms, no matter what activity you are engaged in.
Another wonderful benefit of a gilet is that you can wear just about anything underneath it, whether it's a short-sleeved polo, a long-sleeved shirt, or even a chunky knit. Unlike quilted jackets or body warmers, a gilet is also relatively streamlined, so it can be worn underneath an outdoor coat and can easily pack or carry.
The Schoffel men's Oakham fleece gilet is one of our best selling products and is perfect for pairing with a winter coat, or wearing on its own on warmer days. Made with 'Polartec Thermal Pro' technology, this fleece gilet is designed to keep you warm and comfortable, so you may want to build a collection of the 12 different available colours!
Another of our best sellers is the Schoffel ladies Lyndon fleece gilet, which provides a perfect mid layer to be combined with a coat during the winter, but why not make the most of your purchase and keep it for wearing as a second layer all year round? Like the Oakham, the Lyndon gilet incorporates 'Polartec Thermal Pro'.
Lightweight coats
For many outdoor activities, particularly sports such as shooting, lightweight, breathable coats are more suitable than heavy, woollen coats. For men, the Schoffel Ptarmigan Ultralight coat provides a sporty, lightweight solution for shooting and other outdoor activities. Featuring venturi non-insulated two-layer laminate, 100% ultralight polyamide ripstop fabric that is 100% waterproof, windproof and highly breathable, this stylish jacket keeps your upper body warm, while allowing your skin to breathe properly. The sport cut allows for ultimate lift and allows plenty of freedom of movement.
The Schoffel ladies Superlight Ghillie coat offers the same benefits as the Ptarmican Ultralight, with a sporty, stylish and super feminine fit. Despite being super lightweight, the outer fabric of this coat is noted for his impressive strength, durability and resistance to abrasion.
Tweed coats
Nothing says country style quite like tweed. However, as well as creating a highly stylish look that is both outdoorsy and high fashion, tweed is a perfect material for winter weather. The woven wool of tweed garments provides excellent insulation for your body.
The Schoffel men's Ptarmigan tweed coat is available in Windsor or Sandringham tweed, made from 100% pure wool. Lambswool provides softness and comfort, whilst worsted wool gives strength, durability and texture. The highly durable inner lining of the coat makes it completely waterproof, windproof and highly breathable.
Schoffel's ladies Ptarmigan tweed coat features a lambswool tweed with a moisture and stain repellent Teflon finish, with highly durable GORE-TEX lining that ensures the coat is 100% waterproof and windproof, as well as remaining breathable. This is a coat designed to withstand all weather conditions.
All of the above products are completely machine washable and quick drying, which is highly convenient when clothes can easily get muddy or wet in the outdoors. To take a look at the rest of the Schoffel collection, be sure to browse through our website.