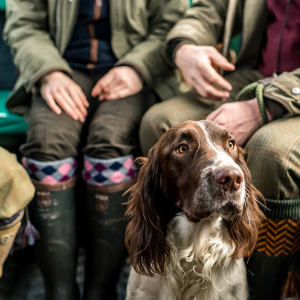 Our guide to the perfect Shooting Gifts for your Host or Hostess for the season ahead.
When a coveted invitation to shoot arrives in the mail or pings up in your inbox, it can't fail to raise a smile. What could be better on a fine, crisp Autumn or Winter day than a day of sport in the countryside with friends, colleagues or family.
But organising a shoot is no easy task, not only do your hosts have to make sure there are enough birds to ensure a great day in the field, but there's the transport, the beaters, not to mention the lunch all to plan with style and precision.
So, when it comes to a gift for your host or hostess, a limp bunch of flowers or a box of chocs just isn't going to cut it.
Here are some of our suggestions for gifts that are as special as the day itself:
Game Book
In this digital age when everything from recipes to photographs are stored in the 'cloud', there's something comforting about setting down your shoot successes and failures in pen and paper. Our leather bound game books are beautiful gifts that can be personalised with initials, dates or even house names.
Leather Cartridge Magazine
This leather cartridge magazine is a beautiful present for a keen shot, handmade in full leather with a dark red lining. It has four compartments holding a total of 200 cartridges, finished with brass fittings and contrasting stitching, and comes complete with a canvas protective cover with leather trimmings.
Leather Tripod Seat
This is a great present for the man or woman who loves the countryside. A stylish and sturdy, leather tripod seat with three wooden legs. Easily transportable with a matching leather shoulder strap, it's perfect for shoot days, picnics or even on a rugby side-line. 
Cartridge Cufflinks
Our cartridge cufflinks make the perfect gift for the stylish gent who loves to shoot. Whimsical but also stylish, these are bound to become weekend favourites!
Hip Flasks and Cups
We've been selling these since we opened our first shop back in 1979 and they are still some of our most popular gifts. Beautifully made in a selection of coloured leathers, our Hip Flasks and Stirrup Cups are something everything man should have in his wardrobe.
Shopping for Shooting Gifts
For further gift inspiration, browse our shooting and outdoor ranges, which any host or hostess would be delighted to be gifted.