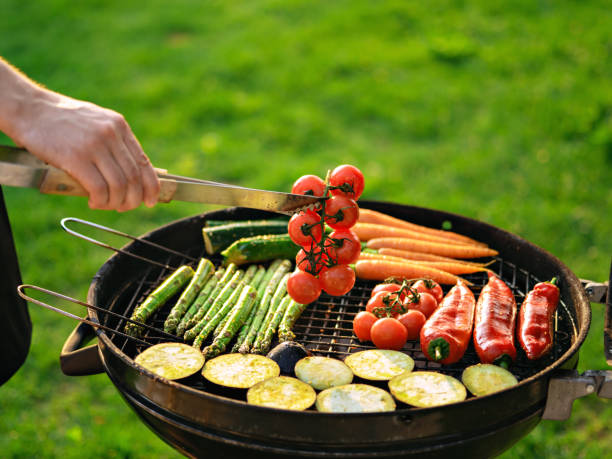 Roxtons Guide To Hosting The Perfect BBQ
At last, the sun is smiling and so BBQ season officially begins. Seize the moment! If the evening looks set to be balmy, why not be spontaneous and round up a few buddies?
Somehow, gathering family and friends for a BBQ seems so much more relaxed than inviting guests for dinner indoors. The informal cooking, the garden setting and the unpredictability of the weather certainly changes the dynamic.
Here are our tips for hosting the perfect get-together:
The Setting
Mow the lawn, sweep the patio and dust off the garden furniture. Tidy up the plants in nearby pots and you are well on the way to setting the scene.
Dig out a couple of blankets and a few large scatter cushions to immediately create an easy vibe. If you have a fire pit, collect some logs to prolong the party and keep guests warm when the mercury drops.
The Table
Throw on a colourful tablecloth with plenty of pattern (here, we hare obsessed with block-print designs), add an array of crockery and cutlery and perhaps a few coloured glasses. Worry not about mix and match – it all adds to the merriment. Fill vases and jugs with just-picked blooms from the garden or verges and round up some candles. Flickering flames ensure an intimate ambience and will bathe your space in pretty light.
The Drinks
A large jug of Pimms or punch bobbing with freshly picked fruit is welcoming and encourages an informal vibe as guests are more likely to help themselves to a top up. Or why not ring the changes and add an element of surprise with a cocktail? We've just discovered Aperitivo Select – 'born in Venice in 1920' and composed of 30 different botanicals. Mix with prosecco and soda for refreshing summer talking point to get guests mingling.
If the men are cooking, chances are a box of beers will be a requisite! Buy a local craft lager, such as Ramsbury Red Ram, to firmly hit the refresh button.   Our favourite wine merchant Grapesmith  www.grapesmith.co.uk recommends tantalising your palette with a delicious rose. Barney's top picks this summer include Chateau Baillon Cotes de Provence and Herencia Altes Rosat Celestrina Especial. Don't forget plenty of soft drinks too and heaps of ice.
The Food
Whilst for many, a BBQ is synonymous with the scent of slightly charred meat filling the air, we don't want blackened sausages or incinerated corn on the cob here! Choose good cuts and products from a quality, local butcher and if time allows, treat your friends to homemade burgers. These days its easy create a feast, regardless of dietary preferences, so include an easy veggie option, such as roasted vegetable skewers.
Support the stars of the BBQ with a couple of stand out salads served in pretty bowls, a selection of tasty dressings and sauces and a basket of appetizing bread. The key is to keep it casual.
What To Wear?
For a BBQ, we say go relaxed. As the host, dress chic but comfortable. We will be opting for a pretty summer dress for the girls and shorts and a nice shirt, sleeves rolled up for the boys. If its daytime, grab a fun straw hat or baseball cap…
And finally….
Of course, we sincerely hope it won't rain but remember, we are in the UK, and we are in summertime so an indoor contingency plan is a must just in case the clouds gather. And the most important point: a good party is largely dictated by the people so a spot of rain in unlikely to put a damper on the party! Enjoy!