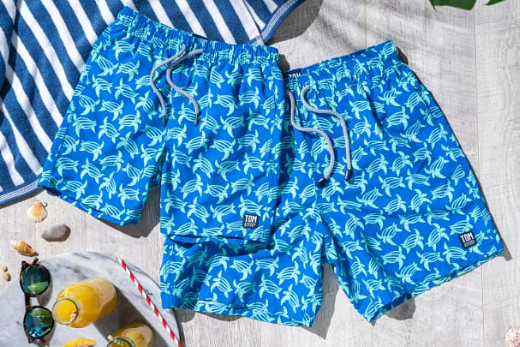 Packing for your holiday. Tips and ideas for men...
Packing for the guys is generally a simpler task. Of course, they want to cut a dash whether on staycation or abroad, but the kit list is likely to feature a few staples that cover all bases.
Start with a couple of great, indispensable polo shirts.  We especially like Schoffel's St Ives Classic Polo for the range of striking colours – perfect for the beach, boating, hiking, family cycle rides or tending the BBQ.
Pair with Brax 5 Pocket Cooper Bristol shorts or 5 Pocket Cooper Trousers, depending on your location or planned activity and throw in the Rick Sweatshirt or Schoffel Pima Cotton ¼ Zip in case it gets chilly.
When it's time to hit the beach, look no further than Tom & Teddy's fun swimming shorts in a riot of designs. They will cut the mustard as easily in Polzeath as they will in Paxos.
Pack light for the evenings. A relaxed linen shirt, such as the Classic by Ingrams or BD Baggies can be thrown on night or day. Why not take a patterned option too? We will be opting for Stenstroms Kaliedescope Shirt and a Roxtons Cotton Cashmere ¼ Zip for when the mercury drops.
Have a pair of lightweight chinos to hand for breezy evenings; MMX Lupus Chinos – pop these on and your ready to roll.
Accessories can make or break an outfit and are all important. Remember a Billy Belt to pair with the shorts or chinos, a selection of boxers, a good pair of sunglasses and top it off with Travaux En Cours Raffia Hat. You're good to go.