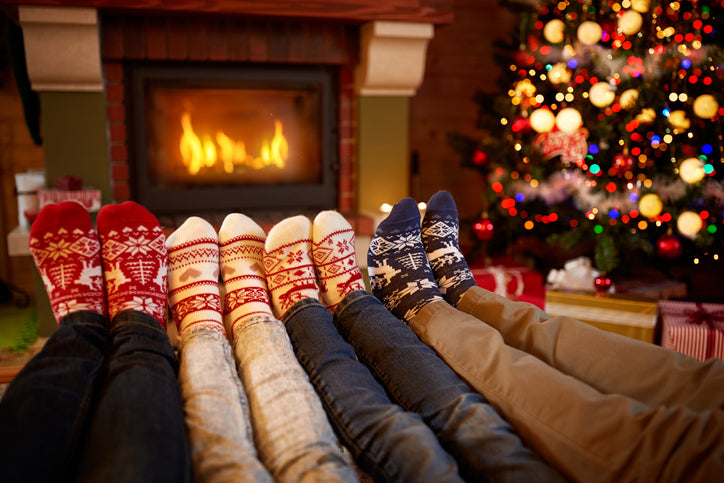 SCHOFFEL Christmas Gift Guide
When people think 'Schoffel' they tend to conjure images of the ubiquitous fleece gilet, adored by so many, male or female, aged 17 to 97. Second up, they might picture a range of country coats and jackets out and about in the British countryside.
But…drum roll please…this Christmas Schoffel has it all wrapped up! You might be surprised to learn just how extensive the world of Schoffel is and just how many loved ones on your Christmas list could so easily have a large red tick against their name with a Schoffel gift this year.
Let's start exploring this further:
Schoffel clothing for him
Husband Charlie – for much of last winter and already this autumn, the family have heard the grumbles 'my old coat really isn't what it was – I am sure it's leaking somewhere'. And yet, he continues to wear it and continues to moan. Why not treat him to the latest Schoffel jacket? The Ptarmigan Extreme II with a contemporary sport cut, is created for all weathers, is 100% waterproof, lightweight and perfect to layer with an Oakham gilet.
Brother Matthew – permanently has holes at his elbows so surely he's due for a smarten up! A Schoffel Cotton Cashmere ¼ Zip will add a touch of luxury to his wardrobe and look great with his check shirt and jeans.
Brother-in -law Nick – has just taken up shooting and we hear on the grapevine that he's feeling a little conspicuous out in the field without a country checked shirt. The Schoffel Milton shirt is fresh, 100% cotton, comes with a pair of silk cufflinks to dress it up if required whilst the tailored fit will keep it looking sharp and perfectly presentable with chinos jeans for every day.
Schoffel coat for her
Daughter Annie – Why does she always wear everyone else's coat – including her brother's and father's – but rarely her own? Spoil her with a Superlight Ghillie Coat. Its feminine fit will cut it on a dog walk, at the point to point and on a winter trip to the beach once Annie adds a funky scarf and her favourite beanie. She may not be your classic Schoffel wearer, but we will wage a bet she won't want to swap her Schoffel for any other coat on the pegs.
Gifts for the grandparents
Granny Peggy – dog lover extreme! Schoffel has the perfect Christmas gift for her – look no further than the Norfolk shirt, adorned with the sweetest spaniels. In crisp cotton, this could well be a wardrobe staple in years to come.
Grandad Jeffrey – these days can feel slightly chilly at times so what better than a Schoffel Oakham fleece. It will keep him toasty warm when pursuing the daily broadsheet and layer happily under his tweed jacket or his country coat when he's out and about.
New to country clothing? Schoffel still have the perfect gift
And finally, we have the daughter's boyfriend. A city boy at heart, he's falling for the countryside (and the daughter too!) so perhaps a Schoffel Tweed Baseball Cap will be a gentle introduction to the world of country clothing.  
So, checkout the ultimate Christmas gift selection from Schoffel at Roxtons and treat your family and friends to a present sure to please.